You can manually select the Wi-Fi channel and channel width in the Vilo ISP Portal & the Vilo App. Please note: You can select the channel width for the 2.4 GHz and 5 GHz bands on Vilo 6. On Vilo 5, you can only select the channel width for the 2.4 GHz band. A video walkthrough can be found here.
Vilo ISP Portal:
Sign in to the Vilo ISP Portal: https://isp.viloliving.com/
From the Wi-Fi networks page, click the "View" button for the network you'd like to edit the channel width for.
Select the Wi-Fi Settings page
From here you will see different settings you can edit: Band Steering, Wi-Fi Name / Password, Signal Strength, Encryption, Hide This Network, 2.4 GHz & 5 GHz.
You can use the respective drop-down menus to select the channels as well as the channel width (20 & 40 MHz for 2.4 and 20, 40, and 80 MHz for the 5GHz band.)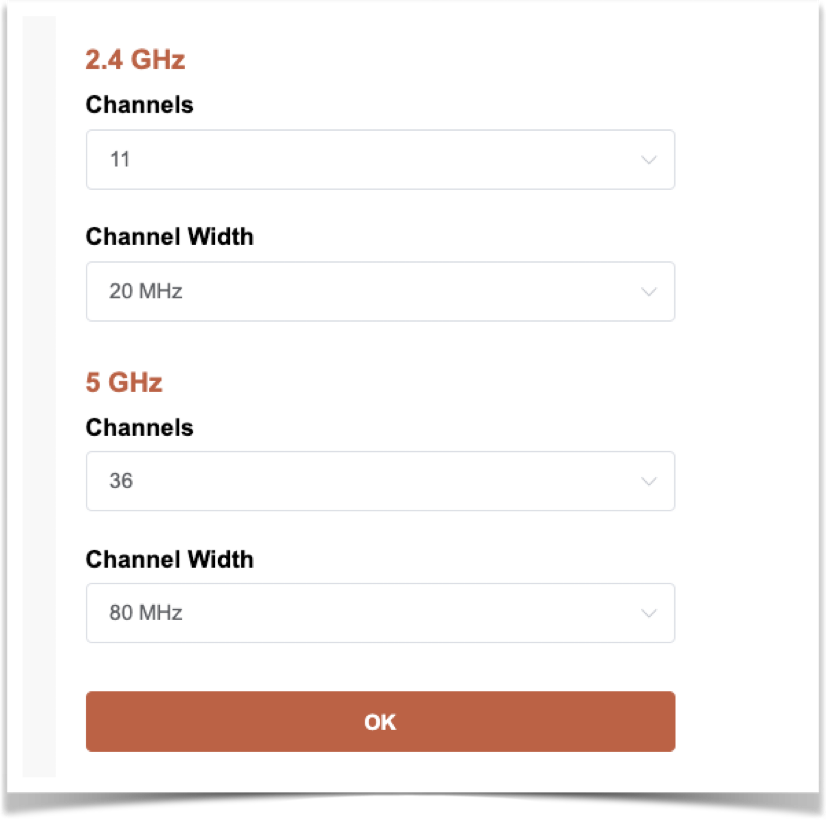 Vilo Living App:
As long as you are on at least Android version 1.0.167 & iOS version 1.0.161 and signed into an ISP Account in the Vilo App, you can edit the Wi-Fi channels and channel width.
Once logged into the Vilo app with your ISP Account, tap on the network you'd like to edit the Wi-Fi channels or channel width for.
You can tap on "System Dashboard"—-> "Wi-Fi Signal Strength"

and you will arrive to the "W-Fi Settings" page. (Alternatively, you can also go to settings by clicking the three dots in the top right corner followed by "Wi-Fi Settings")
On the Wi-Fi Settings Page, you can select the channel and channel width for the 2.4 GHz or 5 GHz band (If using Vilo 5, you will only be able to select the channel width for the 2.4 GHz band.)